HOG, FATHEAD & HANK: THEY ALL PLAYED WITH BROTHER RAY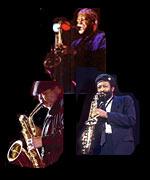 REMEMBERING THREE SAXOPHONE MASTERS

During the second half of January 2009 the music world lost three brilliant jazz and blues saxophonists, all of them longtime Ray Charles collaborators: Leroy "Hog" Cooper, David "Fathead" Newman, and Hank Crawford. Brother Ray, wherever he is, must need a great sax section.

Leroy Cooper joined Ray Charles in 1957 and for twenty years his powerful baritone saxophone anchored the ensemble on many of Charles' greatest recordings, never more so than on the 1961 classic, "Hit the Road, Jack." "Leroy was an amazing player..." Charles wrote in his autobiography, Brother Ray, "there were few if any limitations to what he could do." After leaving Charles, Cooper settled in Orlando, Florida, where he spent the next two decades playing at Walt Disney World's Magic Kingdom. He also continued to perform locally in blues and jazz bands, and played his final gig in Orlando only days before he died on January 15 at the age of 80.

David "Fathead" Newman - he got his famous nickname from a high school music teacher who caught him playing his horn with the music turned upside down - joined Ray Charles on baritone saxophone in 1954. He later switched to alto and then tenor saxophone. Newman worked steadily with Charles' small and big bands for the next dozen years, soloing on such immortal sides as "Night Time is the Right Time," "Talkin' 'Bout You" "I Got a Woman," "Let the Good Times Roll," and "Rockhouse." "He was one of the best musicians I ever heard," Charles declared in Brother Ray, adding that Newman "could make a sax sing the song like no one else." In 1959 Charles helped Newman launch his career as a leader with the debut album, Fathead: Ray Charles Presents David Newman, which included the jazz classic, and Newman's signature song, "Hard Times." During the following five decades he continued to record and, after leaving Charles, perform as a leader. Although ill with pancreatic cancer, Newman made his final recording this past December, The Blessing, which will be released later in 2009. He died at the age on 75 on January 20.

Hank Crawford began playing with Ray Charles on baritone saxophone in 1958 and a year later switched to the horn for which he was best known, the alto saxophone. As Charles recalled in Brother Ray, Crawford quickly proved himself indispensable to him. "Soon Hank learned exactly how I work. He played very good jazz and blues himself, and he turned out to be my first musical director." Crawford left Charles in 1963 to form his own septet - although he reunited frequently with his old boss - and through the next forty-four years recorded numerous albums as a leader, as well as with organist Jimmy McGriff. Known for his searing, gospel-drenched sound, Crawford was a master of both ballads and blues, and he influenced subsequent generations of funky alto players. He died at the age of 74 on January 29.

Let's remember Leroy Cooper, David Newman, and Hank Crawford, and honor the important contributions they made to jazz, blues, and popular music.

© Bob Bernotas, 2009. All rights reserved.

---