A JAZZ MASTERPIECE:
"BODY AND SOUL" BY COLEMAN HAWKINS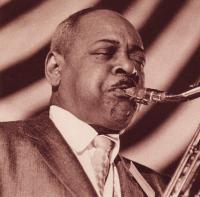 Until tenor saxophonist Coleman Hawkins debuted with the Fletcher Henderson band in 1923 his chosen instrument was at best a novelty and at worst a freak. Its classical repertoire was insignificant and irritating. Half-hidden as a supporting player in marching bands and hotel orchestras, the saxophone seldom joined the cornet, trombone, and clarinet in the sonically balanced, collectively improvising frontlines of the early jazz combos.

Enter Coleman Hawkins. In much the same way that Louis Armstrong did for the trumpet, by the end of the 1920s Hawkins, combining an immense tone, a driving rhythmic attack, and an advanced harmonic knowledge, had written the owner's manual for the saxophone. In equal parts warm, sensuous, and powerful, his playing set the standard by which every other tenor man was measured.

But by 1934 the Henderson band had fallen upon hard times. The Depression, poor management, and the leader's careless approach to business left him struggling to meet his payroll. After ten years as band's star soloist Hawkins realized that he had better look elsewhere if he were to continue earning anything approaching his handsome $200-a-week salary. And so, he drummed up an opportunity to travel to Europe, arriving in London on March 30, 1934 for a "brief" visit. He stayed for more than five years.

While there, Hawkins traveled widely, performed extensively, and won both critical acclaim and public admiration. He made forty-seven recordings during his European odyssey, but only four were issued in the United States. As a consequence, for more than five years Coleman Hawkins and the American jazz scene were virtual strangers. When he returned on July, 31, 1939, he discovered that the world he once knew, and ruled, had changed significantly.

While the king was off conquering far away lands, a formidable corps of pretenders were vying for his throne. Chu Berry and Ben Webster, Hawkins' two closest disciples, had found their own strong, confident voices. From the mid- and southwest came the brilliant triumvirate of Herschel Evans, Dick Wilson, and Don Byas. And there was an exciting newcomer, Lester Young, whose cool, light-toned, rhythmically-relaxed style was the polar opposite of Hawkins' hot and rhapsodic approach. Coleman Hawkins was no longer the undisputed champion of the tenor saxophone. He now would have to defend his title.

For the first few weeks after his return to New York, Hawkins, every night, would stop in at the same basement club in Harlem, just hanging out, enjoying a few drinks, and listening. Once the word spread that he was back, all the top young tenor men dropped by to show off their stuff, each waiting for a chance to take on the master. But Hawkins just sat at his table, coolly eyeing the young Turks and biding his time, his horn nowhere to be seen. Then one night it happened.

Hawkins showed up later then usual, but this time he came armed. Billie Holiday was jamming with her great friend, Lester Young. Hawkins unpacked his horn and joined them on stage. When they finished Billie pointedly declared that it was a pleasure to be accompanied by "the world's greatest tenor saxophonist, Lester Young!" First there was a stunned silence. Then Hawkins called a tune. And he played and kept playing as Young stood by and watched. When Hawkins was through, the joint erupted. It was virtually a unanimous decision -- Coleman Hawkins was still the champion of the tenor saxophone. Only Holiday and Mister, her pet boxer, dissented.

A Lionel Hampton all-star date on September 11 marked Hawkins' first appearance in an American recording studio in over five years. His solos on Benny Carter's "When Lights Are Low" and an otherwise forgettable pop ballad, "One Sweet Letter From You," exude the familiar Hawkins poise, imagination, and feeling.

Exactly one month later -- October 11, 1939 -- Hawkins returned to the studio with his nine-piece band. They recorded four sides, the last of which was a tune that he had been playing regularly at Kelly's Stable on New York's jazz mecca, 52nd Street. Observers recall that Hawkins' live performances of the song, usually reserved for the late-night patrons, could last as long as forty-five minutes to an hour! Pared down to about three minutes, the studio version became recognized immediately as a masterpiece of ballad interpretation and improvisation, and influenced the evolution of jazz in a way that few recordings, before or since, have. The song was "Body and Soul."

Originally written for and recorded by Gertrude Lawrence, a star of the London and New York stages, the song was interpolated into the Broadway revue Three's a Crowd, which debuted on October 15, 1930. Sung on stage by Libby Holman and danced to by Clifton Webb and Tamara Geva, "Body and Soul" became an immediate showstopper, and, thanks to Paul Whiteman's concurrent recording, a hit tune.

The haunting, sensual melody was the creation of John Green, a young songwriter who went on to build a long and distinguished career as a composer, arranger, and conductor for radio, recordings, and the Hollywood studios, where he was as a three-time Oscar winner. Robert Sour, Edward Heyman, and Frank Eyton are credited with the impassioned, at times, desperate, lyric - two sets of lyrics, actually. It took three lyricists to write one pop tune? Well, typical of the music business back then, Chappell & Co. offered to publish the song on condition that Eyton, one of its staff arrangers, "work" on the lyric. According to one of his "collaborators," Sour, "he didn't even change a comma."

Preferably performed at a slow or medium-slow tempo, "Body and Soul" employs the familiar 32-bar, A-A-B-A form common to many, if not most, entries in The Great American Songbook. Green's melodic line spans an usually wide range and exudes occasional touches of the blues. The harmony is rich and dense. And the B section, or "bridge," which houses a pair of flowing four-bar phrases, is characterized by a thorny major-minor key change. In short, "Body and Soul" is a masterfully constructed popular ballad that challenges the artistry and imagination of any interpreter.

So it's no wonder that this fine song has been embraced by so many jazz artists and has been given so many definitive treatments, beginning with Louis Armstrong's breezy version in the year of its creation. Even before Hawkins' 1939 masterpiece there were brilliant recordings by the Benny Goodman Trio (1935), Henry "Red" Allen (1937), Django Reinhardt and the Quintette of the Hot Club of France (1937), and Chu Berry with Roy Eldridge (1938), the first to employ a double-time chorus. Later milestones include the King Cole Trio's florid rendering (1944), James Moody's witty bebop recasting (1949), Serge Chaloff's courageous and bittersweet swan song (1955), Sonny Rollins' unaccompanied solo excursion (1958), and John Coltrane's bold reharmonization (1960). By the 1970s "Body and Soul" had overtaken "Stardust" as the most recorded popular song of all time. It is estimated that, worldwide, there have been over 1800 pop and jazz recordings of this acknowledged classic.

But to its then twenty-two year-old composer, at the time it was nothing special, just another songwriting job. "I am interviewed a lot about 'Body and Soul,' John Green remarked, looking back on his biggest claim to fame, "… and these klutzes say, 'Tell me, when you were writing "Body and Soul'" did you know that you were writing a classic?' I say, 'A classic? What are you talking about? I knew I was writing it for Wednesday.'"

Although Coleman Hawkins had been playing the song on his nightly gig, he did not plan to wax it until the session's producer, Leonard Joy, requested it. "I had no idea of recording 'Body and Soul' when we went into that session," he recalled, years later. "That tune was the least of my ideas. There were other tunes I preferred. … I didn't even have an arrangement on it." Nevertheless, through two choruses of pure tenor saxophone bliss, Hawkins' version of "Body and Soul" raised the song to its greatest heights.

After a four-bar piano introduction Hawkins begins his statement in a relatively subdued manner, playing softly, in the low range of his instrument, with a wide open sound and, for him, an unusually relaxed rhythmic attack. He alludes to Green's melody briefly in the opening bars, but otherwise his solo is entirely improvised. Working like a master architect, Hawkins connects and builds separate musical strands - tessitura, rhythm, dynamics, and timbre -- into a unified musical structure. There is no waste, no unnecessary ornamentation as each phrase leads naturally into the next.

Few moments anywhere in music are as moving as Hawkins' final eight bars, the emotional climax of the piece, as he reaches up to and beyond the highest "legitimate" notes on the horn in sudden, sharply-accented bursts. Like a blues singer, he calls forth feelings that are personal and completely genuine. And so, while this is not, in any formal way, a blues solo, its content and character are profoundly blue. At last, just three bars from the end of the record, Hawkins pulls the performance back under control in an understated conclusion that mirrors the calm manner with which he began his improvisation two choruses and less than three minutes earlier.

Even the most casual listener could not help but be struck by the majestic beauty of this three-minute masterpiece. Its appeal was immediate and has grown with the passage of time, a phenomenon that genuinely surprised its creator. "It's funny how it became such a classic," Hawkins mused. "Even the ordinary pubic is crazy about it. It's the first and only record I ever heard of that all the squares dig as well as the jazz people, and I don't understand how and why, because I was making notes all the way. I wasn't making a melody for the squares. I thought nothing of it. I didn't even bother to listen to it afterwards."

You almost could say that modern jazz began at that record date. Of course, this does not mean that Coleman Hawkins walked into the studio and a few hours later walked out after singlehandedly changing the course of jazz. That would be an insult to an entire generation of jazz musicians whose contributions - some great, others small, none insignificant -- helped deliver jazz into the modern era. Through their labors even the most mundane pop tunes were transformed into jazz, and the best ones were adopted permanently into the repertoire as "standards" - staples like "I Got Rhythm," "Stardust," "How High the Moon," and of course, "Body and Soul."

What did happen was that on October 11, 1939, an accomplished musical artist named Coleman Hawkins arrived at one of the gates of jazz history, at a time when old aesthetic problems were being solved and new ones were being tackled, as jazz improvisors were striving to reach a higher level of musical expression. His interpretation of "Body and Soul" helped create a path to the future, setting new standards and creating new rules, transcending the work of the previous generation, and pushing the music toward a new level and into a new era.

And so, on that day, the "jazz ballad" achieved its fullest flowering yet in Coleman Hawkins' immortal recording of "Body and Soul." For that reason it still stands, these many decades later, as one of jazz's greatest milestones.

© Bob Bernotas, 2010. All rights reserved. This article may not be reprinted without the author's permission.

---