MY FRIEND, BENNY POWELL (1930-2010)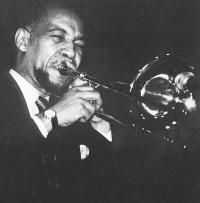 Music is a sound that is pleasing to the ear. Good music is made when the musician has developed the skills to combine the techniques, tone, ease, and clarity of ideas to convey or impart an emotion to the listener. Music inspires people in many ways. It is a powerful mood manipulator -- a therapeutic healing and unifying force. -- Benny Powell

Trombonist Benny Powell died on June 26, 2010, at the age of 80. Benny also was a teacher, producer, and jazz activist, a mentor to scores of young musicians, and, for the last nineteen years, a great friend to me.

Benny was born in New Orleans on March 1, 1930. His fascination with the trombone began when he was a very young boy, riding in a car in a parade just ahead of a marching band, the trombonist and his shiny, sliding horn (naturally) right out in front. Then, when he was twelve, young Benny discovered a trombone behind a sofa at an uncle`s house. Apparently the uncle had bought it for one of his kids, but the boy was more interested in sports than in music. Well, Benny was interested in music, so he took the horn home, found himself a teacher, and by the time he was fourteen played his first gig, a dance at a USO club on New Year`s Eve, 1944.

At the age of sixteen Benny went out on the road with the highly regarded territory band of trumpeter King Kolax. With Kolax he traveled throughout the Midwest, until the band got stranded in Oklahoma City. Luckily for Benny, while stuck there he got an offer to join trombonist Ernie Fields`Tulsa-based big band. Then in 1948 he landed his first major-league gig when, on the recommendation (as he learned only decades layer) of singer Betty Carter, Benny was hired by Lionel Hampton.

In 1951 Benny lived briefly in Hull, Quebec, '"dodging the Korean War draft," he once told me. "Hey, I had no fight with the North Koreans. Now if somebody wanted to get up an army to fight the Ku Klux Klan, that would have been a different story." In Canada he played trombone, sang, and even danced, but it seems the Quebecois audiences were more impressed with Benny`s versatility than Benny was. "If I cleared my throat, they thought I was Billy Eckstine," he recalled with a laugh. "If I stumbled, they thought I was Bojangles Robinson." Deciding he was safe from the Army, Benny returned to the US and landed his big break.

Of course, Benny Powell is best known for that twelve-year tenure (1951-63) with Count Basie`s orchestra, as well as for his elegant eight-bar contribution to the Count`s immortal 1955 recording of "April in Paris." But more than that, his occasional and precious solos with the Basie band displayed a fluid technique, easy swing, and blues-laced, story-telling approach to improvisation, establishing him of as one of the finest modern jazz trombonists.

Check out, for instance, Benny`s masterfully constructed and perfectly balanced two-chorus statement on Frank Foster`s "Blues Backstage" (1954). Or his fleet trip through Foster`s arrangement of "In a Mellotone," from what Benny always said was his favorite Basie album, the live Breakfast Dance and Barbecue (1959). Or his three-way chat with Thad Jones`trumpet and Frank Wess`flute on Jones`"Toot Sweet" (1962). And as one-third of the greatest three-man trombone section of all-time, he holds his own alongside the gifted Henry Coker and the formidable Al Grey on Neal Hefti`s "Bag a`Bones" (1958).

After leaving Basie Benny built a rich, diverse musical career. A versatile and accomplished musician, he worked extensively on Broadway, television, and recordings. His trombone graced Duke Pearson`s fine New York big band and the renowned Thad Jones-Mel Lewis Jazz Orchestra. Benny`s four-chorus ride on Jones`"Fingers" (1970), perhaps his best recorded solo, is required listening, a master class in modern jazz trombone improvisation. During that time he also began to make his name as an adept bandleader, a respected teacher, and a dedicated activist in the cause of jazz.

In the early 1970`s Benny, as a member of The Merv Griffin Show orchestra, moved to Hollywood when the program relocated from New York. In 1978 he founded a non-profit organization, the Los Angeles Committee on Jazz. Since then he served on panels for the National Endowment for the Arts, the New York State Council on the Arts, and Local 802 of the American Federation of Musicians, where he was a leader in the "Justice for Jazz Musicians" campaign.

Benny spent most of 1980 in Paris with the musical revue, Ain`t Misbehavin`, and then returned to New York. In 1982 he released his first LP as a leader, Coast to Coast, featuring two different and stellar quintets, one recorded in Los Angeles, the other in New York. He also began performing and recording with the visionary clarinetist-composer John Carter, pianist-composer Randy Weston`s African Rhythms, and Dameronia, the Tadd Dameronia repertory ensemble led by drummer Philly Joe Jones, as well as the big bands of saxophonists Benny Carter and Jimmy Heath.

In 1990 he appeared at the Concord Jazz Festival and delivered a sumptuous version of the ballad, "But Beautiful," which can be heard on Live at the 1990 Concord Jazz Festival, First Set. The following year Benny recorded the CD, Why Don`t You Say `Yes,`Sometime?!, which featured six of his compositions.

Although an unsuccessful kidney transplant in 1990 required him to undergo thrice weekly dialysis treatments, Benny never let it hold him back. He kept up a rigorous playing, teaching, and touring schedule, taking his treatments wherever he happened to be in the world, making every gig, and always maintaining the high standard of performance that he demanded of himself (and of others).

I`ll never forget a phone call I got from him in January 1996. I hadn`t heard from Benny in a bit, but that was not too unusual. It was the holiday season and I figured that he might be away visiting family. "Hello, Bob, it`s Benny Powell."

"Hey Benny, what`s up? How`ve you been.?"

"OK, I just got a new kidney," he said, making it sound like, "I just got a new suit," which, knowing Benny as I did, is something he might very likely have called to tell me. (He was a very sharp dresser.)

This time the transplant was a success and Benny was more active than ever. He continued to work with Randy Weston`s ensemble and Slide Hampton`s World of Trombones, recorded with Gerald Wilson and the Heath Brothers (among others), and led his own quintets. He also formed a joyfully entertaining trio with two longtime friends, pianist Jane Jarvis and bassist Earl May, and founded Faith Records, which reissued his (slightly renamed) 1982 Coast 2 Coast album, and released The Gift of Love (2003) , Two of a Kind (in duo with Jane Jarvis, 2005), and Jarvis`own Sagmo`s Song, which he produced. Benny`s final recording, Nextep, was released in 2007 by Origin Records.

During his eighth decade Benny began to receive much deserved and long overdue honors. In March 2001 the New York Brass Conference presented a tribute, "Lifelong Dream: A Salute to Benny Powell." Then in May he was honored in his hometown of New Orleans at its yearly Jazz and Heritage Festival. In October 2004, at an all-star concert, Benny received the annual Giants of Jazz Award from the South Orange, New Jersey, Division of Arts and Cultural Affairs. And in 2005 he was honored with the Jazz Masters Award by the Flushing Arts Council in New York City. Of course, Benny Powell already had won the respect and admiration of the vast community of jazz artists.

It`s impossible to count how many musicians I`ve spoken or corresponded with, both before and since Benny`s passing, who have remarked on his gentlemanliness, generosity, and grace, not to mention his intelligence and humor. Of course he was a great musical talent. But Benny Powell`s greatest talent was as a human being, and even if he couldn`t play a note of music on any instrument, his loss would be enormous. The fact that he could makes it only that much greater. Without Benny Powell this poor world is now a little -- make that a lot -- poorer.

---